Today I am so excited to be joining the Fat Quarter Shop & Moda Fabrics for Project Jelly Roll: National Sew a Jelly Roll Day! To be honest, I was not sure what to expect when I signed up to be a part of the FQS blogging team, but it has proven to be loads of fun! Fat Quarter Shop is actually the very first online shop where I purchased quilting fabric way back in 2010! That project was not my best, I didn't have any idea with a 1/4″ seam was at that point in time, but it sparked a love of quilting that has not slowed down.
The pattern I made to celebrate NSAJRD is the Jelly Roll Railway quilt, a FREE pattern from Fat Quarter Shop! For my fabrics I combined a jelly roll of Just a Speck by Jen Kingwell with Moda Bella solids in grey and white. I decided to leave off the borders that the pattern calls for to give the quilt a more modern feel.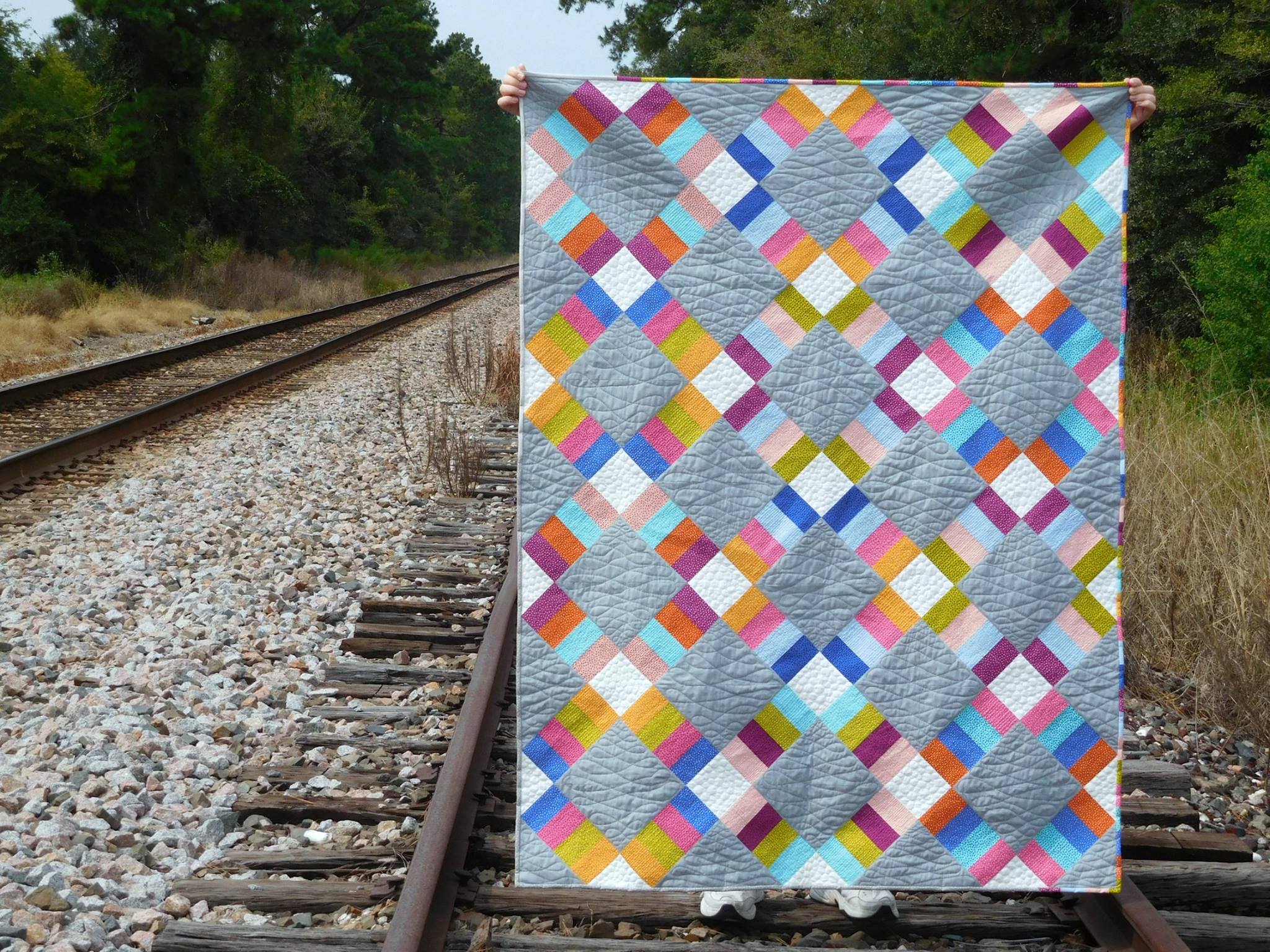 I twisted my hubby's arm to come out to these train tracks in our neighborhood for pictures because a the Jelly Roll Railway quilt obviously needs to be photographed by railroad tracks. There is a section of tracks that isn't connected to an active railway line, and that is the set we took the pictures on. One of my favorite parts of this quilt is the secondary pattern created because I chose background and accent fabrics with high contrast.
I even had a bit of fun with the binding. Since there were scraps left over from the strip piecing of the blocks, I was able to cut them into even narrower strips and sew them together for a section of the binding. I love the fun pop of color it adds to the edge of the quilt.
For my quilting I used a whopping 12 different colors of Aurifil 50 weight thread. I used so many because I matched the thread color to each of the different fabrics. It required a lot of thread changes but in the end it was totally worth it!
I recently took a workshop with Christa Watson, and so I tried a couple new to me quilting techniques from that class on this quilt! If you follow me on Instagram, then you probably saw my stories of testing out the loopy"L's" that I stitched in the grey sections. The first few were pretty wonky, but once I got the hang of it they looked much better! Plus, if you use a thread that matches your background fabric, then you'll be the only one to notice.
I had so much fun making this quilt! Be sure to check out the Fat Quarter Shop for all of their other amazing Jelly Roll tutorials!